THIS IS A LAME POST. EVEN THOUGH THE CHANCES OF GETTING THIS MESSAGE HEARD, ESPECIALLY FOR MALAYSIA IS ALMOST ZERO. MANY SAID THAT MALAYSIA IS NON LIVING MATTER BUT SOMEHOW I STILL BELIEVE IT IS ALIVE, APART FROM THE FACT IT IS NOT AS CONCRETE AS US. URGH NONSENSE AGAIN. HOWEVER I STILL WANT TO SAY HOW I'D LOVE MALAYSIA ALL THE WAY. REGARDLESS WHETHER YOU WON OR LOSE, TAHNIAH MALAYSIA. IT IS QUITE FUNNY WHEN WE CONSIDER THE HISTORY OF OUR FOOTBALL TEAM GLORY, IT WAS ZAMAN MOKHTAR DAHARI! SERIOUSLY! THAT WAS WAY TOO LONG! I WONDER IF YOU LOSE YESTERDAY GAME, WOULD MALAYSIAN TURN OUT AS PATRIOTIC AS TODAY. BECAUSE IF MALAYSIA IS LACKING IN ONE THING, THAT IS COURTESY. OBVIOUS. ANYWAY, I AM GLAD THAT I WAS NURTURED IN THIS PEACEFUL COUNTRY WITH DIVERSE CULTURES AND RACES. I WAS RELIEVED THAT MY PARENT FOUND ISLAM IN THIS COUNTRY. CONSIDER THOSE POOR COUNTRIES AROUND MALAYSIA, IN WHICH MUSLIMS ARE ONLY MINORITY. THANK YOU MALAYSIA. ALHAMDULILLAH. MAY GOD BLESS US. THE POST ENDED UNTRAGICALLY.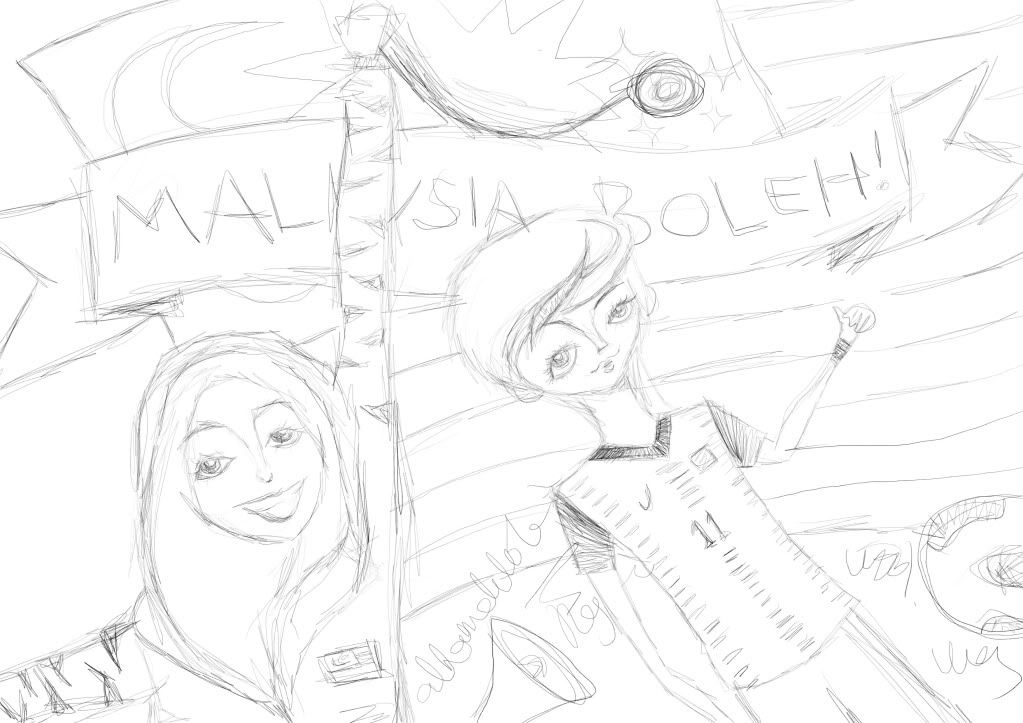 *p/s:Cuak gila tunggu sapa menang emas.
So I sketched
during the final period of the game.